Post by SlyWren on Aug 1, 2015 16:05:39 GMT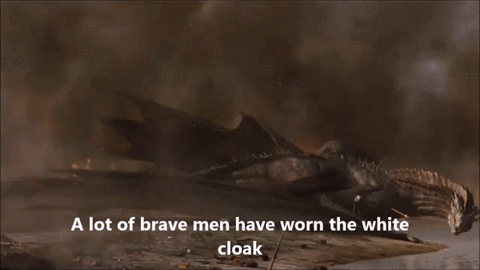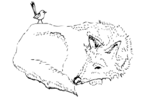 If we're looking for evidence that the KG might have been trying to pull a Cortnay Penrose and find a way to resign as KG with their honour intact (AKA fight to the end even though they know they can't win)
In the dream his friends rode with him, as they had in life. Proud Martyn Cassel, Jory's father; faithful Theo Wull; Ethan Glover, who had been Brandon's squire; Ser Mark Ryswell, soft of speech and gentle of heart; the crannogman, Howland Reed; Lord Dustin on his great red stallion. Ned had known their faces as well as he knew his own once, but the years leech at a man's memories, even those he has vowed never to forget. In the dream they were only shadows, grey wraiths on horses made of mist.
They were seven, facing three. In the dream as it had been in life. Yet these were no ordinary three. They waited before the round tower, the red mountains of Dorne at their backs, their white cloaks blowing in the wind.
We've got a 7 on 3 fight which is bad odds as it is for even the greatest swordsmen which at least Arthur is. But not only are the KG outnumbered, they're on foot while Ned's party is mounted. And not only are they outnumbered, and not mounted like their opponents, they're out in the open where Ned's horses are even more of an advantage as Ned and his men can simply ride them down out in the open. And not only are they outnumbered, out horsed, and out in the open, they've seemingly lost their wits as
They found the Golden Company beside the river as the sun was lowering in the west. It was a camp that even Arthur Dayne might have approved of—compact, orderly, defensible. A deep ditch had been dug around it, with sharpened stakes inside. The tents stood in rows, with broad avenues between them. The latrines had been placed beside the river, so the current would wash away the wastes. The horse lines were to the north, and beyond them, two dozen elephants grazed beside the water, pulling up reeds with their trunks.
Arthur Dayne always made sure he kept his defences in order, yet here he is not using this tower while he's outnumbered and on foot facing mounted men. AKA this doesn't make sense.
Ser Oswell Whent was on one knee, sharpening his blade with a whetstone.
Then we have Oswell Whent greet Ned's party with open steel. And how would Ned interpret this? Well thankfully he's answered that question many times
And when Lord Umber, who was called the Greatjon by his men and stood as tall as Hodor and twice as wide, threatened to take his forces home if he was placed behind the Hornwoods or the Cerwyns in the order of march, Robb told him he was welcome to do so. "And when we are done with the Lannisters," he promised, scratching Grey Wind behind the ear, "we will march back north, root you out of your keep, and hang you for an oathbreaker." Cursing, the Greatjon flung a flagon of ale into the fire and bellowed that Robb was so green he must piss grass. When Hallis Mollen moved to restrain him, he knocked him to the floor, kicked over a table, and unsheathed the biggest, ugliest greatsword that Bran had ever seen. All along the benches, his sons and brothers and sworn swords leapt to their feet, grabbing for their steel.
Yet Robb only said a quiet word, and in a snarl and the blink of an eye Lord Umber was on his back, his sword spinning on the floor three feet away and his hand dripping blood where Grey Wind had bitten off two fingers. "My lord father taught me that it was death to bare steel against your liege lord," Robb said, "but doubtless you only meant to cut my meat." Bran's bowels went to water as the Greatjon struggled to rise, sucking at the red stumps of fingers … but then, astonishingly, the huge man laughed. "Your meat," he roared, "is bloody tough."
Robb was seated in Father's high seat, wearing ringmail and boiled leather and the stern face of Robb the Lord. Theon Greyjoy and Hallis Mollen stood behind him. A dozen guardsmen lined the grey stone walls beneath tall narrow windows. In the center of the room the dwarf stood with his servants, and four strangers in the black of the Night's Watch. Bran could sense the anger in the hall the moment that Hodor carried him through the doors.
"Any man of the Night's Watch is welcome here at Winterfell for as long as he wishes to stay," Robb was saying with the voice of Robb the Lord. His sword was across his knees, the steel bare for all the world to see. Even Bran knew what it meant to greet a guest with an unsheathed sword.
"Any man of the Night's Watch," the dwarf repeated, "but not me, do I take your meaning, boy?"
"My lord father used to say a man should never draw his sword unless he means to use it."
Greeting Ned with steel is akin to asking for death if he's your liege (and as basically Robert's Hand at the moment Ned is liege to everyone in Westoros), as an explicit denial of guest right and that you are there against their wish and not welcome, and that they mean to use their sword.
AKA greeting Ned with your sword drawn is asking for a fight.
"Then or now," said Ser Arthur. He donned his helm.
"We swore a vow," explained old Ser Gerold.
Ned's wraiths moved up beside him, with shadow swords in hand. They were seven against three.
Note that Arthur Dayne is the first to start arming himself of all the combatants. The KG and Ned's party are having their parley, and then Arthur dons his helmet. Next thing you know Ned's men have all drawn their swords.
AKA Arthur started the fight by being the first to decide that this parley won't end peacefully when he started to arm himself for battle in front of them.
"And now it begins," said Ser Arthur Dayne, the Sword of the Morning. He unsheathed Dawn and held it with both hands. The blade was pale as milkglass, alive with light.
"No," Ned said with sadness in his voice. "Now it ends."
Here we have Arthur saying that now things will begin for them, but Ned answers back that no it's over. Ned understands that this battle won't resolve anything for the war as Robert has already won. Either Arthur is incredibly naive and believes that there's still a chance for the Targaryens to somehow rally the realm and reclaim the throne despite Robert having successfully taken the whole realm, or he too knows that the war is over but he's planning to keep fighting until someone kills him.
Yes--this scene works well this way.
Am still newish to the RLJ debates re: "protect" vs. "obey" to interpret what on earth the KG are doing in this scene. And it is complicated by the dream factor.
But it seems that the idea that the KG are saying exactly what they mean has to at least be on the table. Especially given the fact that they and their conversation are the clearest things in the scene. And they mention no king but Aerys. Ned brings up Viserys, not them. No one mentions Rhaegar, despite the Trident. Nor Rhaegar's children (though I'd see why Ned doesn't want to bring them up). Nor Jon (parentage to be determined). No one but Aerys=king by what they say.
Which may mean exactly what it sounds like: Aerys is their king. They won't bend the knee to anyone else. So, fight instead of yield. The whole "protect vs. obey" debate is solved. And why Ned is sad becomes clear as day--pointless fight with desperate men fighting for honor in a cause already lost. A fight that got 5 of his own men/friends killed. That would certainly haunt my dreams.